Denver Carpal Tunnel
Carpal tunnel syndrome refers to a problem with the "carpal" bones in your wrist and the "tunnel" that is supposed to be there when the bones in the wrist are in normal alignment. The median nerve passes through this tunnel and supplies the muscles in the hand. The bones can get knocked out of normal alignment through using the hand over and over in a repetitive motion that places strain and stress on the ligaments that hold the bones together correctly. You can see this problem in supermarket cashiers and also auto mechanics, basically anyone who uses their hands for a living.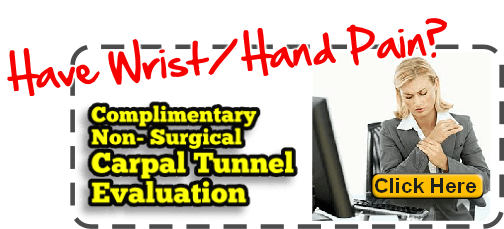 Chiropractic care for carpal tunnel is ideal because it is a non surgical approach to healing and many cases respond within 6 weeks. This is not a guarantee that we can help you with your case but you are welcome to come to the office for a complimentary consultation and evaluation to find out. Just click on the box above to get an appointment today.
Once the bones of the wrist have been adjusted we then have to tape the wrist to help maintain the "carpal tunnel" and allow time for the ligaments to heal up.  That is why it takes about six weeks of care.  But the good news is you only need to come 1x a week.
Denver Chiropractor Robert Ebeling DC, PC of
A-Just-A-Ble Chiropractic Center
1380 S Santa Fe Dr #103
Denver, CO 80223
(303) 377-1755
Follow Denver Chiropractor Robert Ebeling, DC PC of A-Just-A-Ble Chiropractic Center on Google+!